Student Accommodation, Portswood Road,
Southampton
Student Accommodation, Portswood Road, Southampton
Project Value: £2.6 million

Contractor: Bowmer & Kirkland

Client: Fresh

Sector: Education

Duration: 44 weeks
Scope
The mechanical services design and installation for this project include the following:
Heat recovery ventilation to the cluster flats.

Extract ventilation to single bedrooms.

Hot and cold water services from hot water plate heat exchanger in local block plant-rooms, to serve the pre-built bathroom pods.

Centralised district heating plant to serve all blocks, comprising of gas fired boilers and a combined heat and power unit including central water booster set.

VRF (variable refrigerant flow) heating and cooling to amenity areas.

Above ground drainage to serve bathroom pods.

Dry riser installation to small blocks.

Building Management Control Systems (BMS).

Hydrant mains.
Brief
Tucker M&E have completed a contract to provide a full range of mechanical services to the student residences. The site comprises 526 bedrooms across six multi-storey blocks. In addition to the bedrooms there are a number of communal areas for study, laundry and meeting facilities.
Project Challenges
This project had a number of challenges that we had to overcome. Firstly, this was a tight site in a residential area so co-ordination of plant and locations was critical. In addition to this the building service spaces were restricted so co-ordination with other trades was essential.
Full pre-cast concrete construction meant that all services holes through the building had to be fully dimensioned on the drawing prior to any construction on site. To enable detailed
co-ordination 3D models were used. This helped avoid clashes and visualise specific areas prior to installation.
Finally, as combined heat and power units where installed, careful modelling for electrical and heat loads was done to enable the correct size engine to be installed maximising efficiency.
Results
This site is due to complete ahead of schedule, with very minimal snagging. We have had a good relationship with the main contractor and hope to do further work in this sector.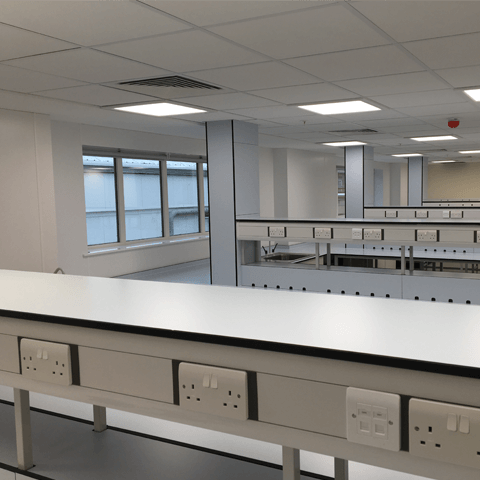 Get in touch with us today and lets chat.