Haltemprice Leisure Centre
Project Value: £700,000
Contractor: Hobson & Porter
Client: East Riding of Yorkshire Council
Sector: Public / Leisure
Duration: 50 weeks
Scope
New gas fired heating serving all areas utilising LTHW pipework and plant.
Combined heat and power unit to add efficiency and reduce carbon duty.
New dry and wet changing area ventilation systems.
New hot water plant inc solar thermal.
VRF and heating recovery ventilation to the Doctor's Surgery.
New Conference Room VRF (variable refrigerant flow) and heat reclaim ventilation.
New gym ventilation and cooling equipment.
New sanitary-ware and above ground drainage.
Brief
Tucker M&E undertook the mechanical installations to fully re-furbish this local leisure facility. As well as the gym, swimming pool and badminton court you would normally expect, the building now incorporates a GP surgery and library.

Beverley Extra Care Facility
Project Value: £1.1 million
Contractor: Houlton
Client: East Riding of Yorkshire Council
Sector: Leisure / Healthcare etc
Duration: 40 weeks
Scope
Central gas fired heating plant with district heating, serving customer interface units in each flat.
Underfloor heating to flats.
External and internal gas infrastructure.
Building Energy Management Systems (BEMS) linked to East Riding Council Offices.
External and internal water infrastructure.
Above ground drainage installation, soil stacks through vertical risers.
Combined ventilation system extract to each bathroom.
Fireman's smoke ventilation systems.
Sprinklers to all areas.
Customer water and energy billing system.
External security and feature lighting.
Internal lighting and emergency lighting.
LV distribution and small power installations.
Roof mounted ballasted PV installations.
Warden call and access control systems.
CCTV systems.
TV and satellite TV installations to each flat.
Brief
Tucker M&E were pleased to be involved in this local project. Extra care sheltered housing gives the opportunity for people to live independently in an environment which is suitable for aging in place. The facility comprises 40 two-bedroom apartments as well as associated communal facilities, all designed for older people.
Project Challenges
The project was ERYC's first full BIM project and as such there were a number of teething problems, however the BIM process was used to successfully deliver the information required by the client for construction. Making sure all the services installed were suitable for use by the elderly was a big concern. A lot of time was spent making sure all systems would be operable by the end users.
Results
The building project was a great success. The client has a top-rated facility that suits its tenants. All designs achieved a BREEAM 'very good' rating.

Hull Royal Infirmary Ward 500
Project Value: £650,000
Contractor: Foremans Relocatable Building Systems
Client: NHS Trust
Sector: Healthcare
Duration: 10 weeks
Scope
Connections to the main building services infrastructure for the hot and cold water, drainage, power and low temperature hot water.
Heating via radiant panels off the LTHW heating system
Hot and cold water services to ward showers and medical sink / basins.
Sanitary-ware and above ground drainage.
Ventilation ductwork and air handling equipment.
Building Energy Management System (BEMS) controls and monitoring.
Medical gasses installations.
Connections to the hospital steam plant to provide a new LTHW circuit.
Small power and bed head services installations.
Lighting and lighting controls.
Access security systems integration with existing.
Fire alarm extensions from the existing building.
Nurse call systems for patients.
Building lightening protection.
Data cabling.
Brief
To provide a new permanent modular 24 bed ward located on the roof of HRI's existing building. The building provides additional beds to alleviate pressure in Winter months.
Tucker M&E provided a full design and build concept to completion package for both mechanical and electrical services.
Project Challenges
The project threw up many challenges primarily down to the fact that the hospital required the building 10 weeks after it was lifted into position.
We were required to liaise with the hospital trust to agree a scheme that worked for the many different departments who often have different priorities. In addition to the main fit-out we were required to assess the hospital's existing services infrastructure and then design a new infrastructure for heating, power and drainage and run these services through a fully operational hospital to serve the new ward.
Results
The building was operational within the time scales and we had no major issues that prevented the building operation. A remarkable project of just under 20 weeks from start of design to operation by the hospital.

Siemens Wind Turbine Blade Construction Facility, Hull
Project Value: £12 million
Contractor: Volker Fitzpatrick
Client: Siemens Wind Power
Sector: Commercial / Industrial
Duration: 40 weeks
Electrical Scope
Electricity generation plant.
HV / LV supply.
LV distribution.
General lighting.
General LV power.
Uninterruptible power supply.
Emergency lighting.
Telecommunications and data.
Facilities for disabled – disabled WC alarm, refuge call systems & RFIL.
CCTV
Access control.
Intruder alarm.
Fire detection and alarm.
Earthing and bonding.
Lightning protection.
Mechanical Scope
Foul drainage above ground.
Sewage pumping.
Hot and cold water.
High purity water.
Compressed air installation.
Natural gas.
Sprinklers.
Fire hydrants.
Gas suppression.
Gas fired boilers.
Solar collectors.
Medium temperature hot water heating.
Low temperature hot water heating.
Local electric heating units.
VRF (variable refrigerant flow) system – general office heating & cooling.
Local cooling units.
Humidification systems.
General ventilation.
Toilet ventilation.
Kitchen ventilation.
Safety cabinet / fume cupboard.
Fume extract.
Dust / high vacuum collection.
Central control / building management (BMS).
Brief
Tucker M&E were appointed as the most competitive bid to provide the M&E services for the construction of the 40,000 m2 building. The facility accommodates the manufacture of 70m turbine blades and assembly, storage and distribution of wind turbine components. The contract also involves the construction of office accommodation and welfare facilities.
The building is part of Siemens £310 million investment in Hull.
Project Challenges
The high volume of M&E services within the main production area meant that it would be difficult to avoid costly clashes on site. 3D drawing, Revit and AutoCAD MEP was utilised to ensure a detailed co-ordination prior to us physically installing services.
Tucker M&E had to visit Siemens Production Facility in Denmark to enable us to correctly interpret the client's requirements. A lot of effort was put into the client's technical discussions to ensure the facility had all the correct services in the correct location, to enable the client to start production with minimal fit out adaptions.
We managed a number of large sub-contractor's packages, some in excess of £1 million. Again, much time was put into correct co-ordination and management of these Sub-contractors.
All the above including all installations was done within a 12 month period, with only eight months of site installation before handover of the production areas.
Results
We feel this was one of our most successful projects to date, being the largest we have undertaken and still managed to complete on time with zero defects. Siemens and Volker Fitzpatrick were extremely happy with our work.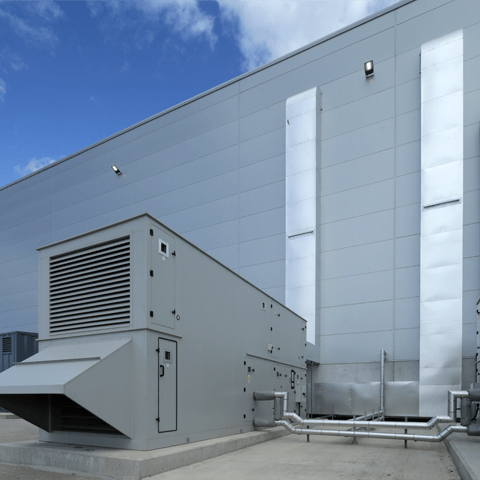 Pure Gym New Site Roll Out
Project Value: Each gym ranging from £120k to £180k
Contractor: Sivil Design and Build Ltd
Client: Pure Gym
Sector: Public / Leisure
Duration: Various
Scope
This has involved the mechanical installation for over 50 gyms, each gym requiring the following scope of works:
Ventilation to the gym floor areas, toilets and changing facilities.
Heating and cooling via VRF (variable refrigerant flow) and multi split air conditioning systems.
Hot and cold water services with gas fired or electric boiler plants.
Sanitary-ware and above ground drainage.
Fire and smoke ventilation.
Brief
Pure Gym is the largest UK gym chain with over 180 gyms nationwide. Over the last four years Tucker M&E have been involved with their new gym roll out.
Our involvement as mechanical design and build contractor involves pre-acquisition due diligence of a property, then the scope of works for landlord's approval prior to fit out of the property and consent drawing, followed by construction design and installation.
Project Challenges
There are a number of challenges we were faced with on these projects, namely that each project is completely different as the building ranged from spec, retail units to basements. Suitable locations for plant externally and issues with adjoining properties all have to be resolved in these bespoke fit outs. The time scales and project lead in time are generally very tight and this involves a very collaborative work with the main contractor and other sub-contractors.
Results
The projects have been successful and we hope to continue with further fit-outs in the future as the gym brand grows.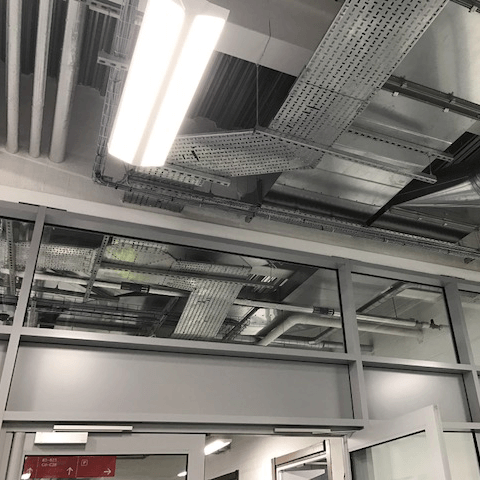 Bridgehead Office Development
Project Value: £400 – £500k
Contractor: PDR Construction
Client: Wykeland
Sector: Commercial
Duration: Approx 20 weeks
Scope
This has involved the mechanical installation for over 50 gyms, each gym requiring the following scope of works:
LV distribution and small power installation.
Lighting and emergency lighting.
Fire alarm installations.
Data cabling and containment.
Lightning protection.
Photovoltaic installations.
Disabled services.
External gas, water and electric infrastructure.
VRF heating and cooling systems.
Ventilation via heat recovery systems.
Automatic and BMS control systems.
Sanitary-ware and above ground drainage.
Hot and cold water systems.
Brief
Tucker M&E have undertaken a number of multi-storey office blocks on this new business park. The projects are M&E design and build and generally include a spec fit out prior to a tenant leasing the building.

Humberside Fire & Police Operations Building, Melton
Project Value: £750k
Contractor: PDR Construction
Client: Humberside Fire & Rescue / Humberside Police
Sector: Public
Duration: 40 weeks
Scope
This has involved the mechanical installation for over 50 gyms, each gym requiring the following scope of works:
External gas, water and fire hydrants.
Hot and cold water services from a central hot water clarifier, boosted cold water services.
LTHW heating to serve radiators within circulation spaces, fresh air handling units, Workshop and Garage unit heaters plus the hot water clarifier provided by the gas fired boiler plant.
Cooling to the offices is provided by a packaged air cooled water chiller, with four pipe fan coil units.
Sanitary-ware and above ground drainage.
Automatic building controls.
Brief
Tucker M&E undertook full concept design in conjunction with the client for installation of the mechanical services for the joint Police and Fire Brigade Operations Building. This Ground Breaking Building houses the Police Dog Unit, the Under Water Unit, the Forces Armoury Unit and other specialist teams / support staff. An addition the building houses the Fire and Rescue Service cutting gear and operational hardware, a Vehicle & Equipment Workshop will be shared by both services. The aim of the joint building for the services to share facilities collaborate which in turn should lead to operational cost savings.
Project Challenges
The main challenges with this project were co-ordination with sub-contractors, because of the amount of specialist contractors. Due to the amount of information that was needed to complete the project, it was difficult to get discussions between the joint services. This meant most decisions where finalised later in the project.
Results
The project completed on time with a very happy client. The project is expected to save joint running costs annually in the region of £100,000.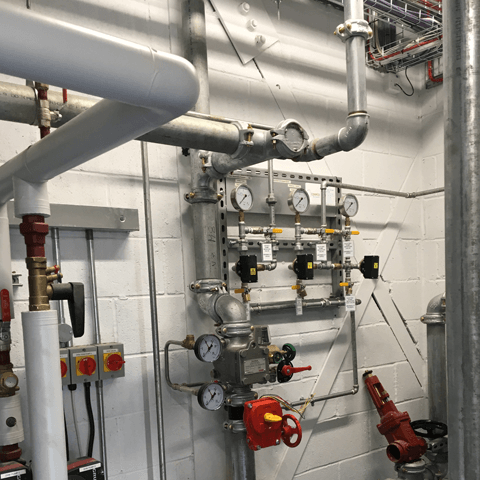 Student Accommodation, Portswood Road, Southampton
Project Value: £2.6 million
Contractor: Bowmer & Kirkland
Client: Fresh
Sector: Education
Duration: 44 weeks
Scope
The mechanical services design and installation for this project include the following:
Heat recovery ventilation to the cluster flats.
Extract ventilation to single bedrooms.
Hot and cold water services from hot water plate heat exchanger in local block plant-rooms, to serve the pre-built bathroom pods.
Centralised district heating plant to serve all blocks, comprising of gas fired boilers and a combined heat and power unit including central water booster set.
VRF (variable refrigerant flow) heating and cooling to amenity areas.
Above ground drainage to serve bathroom pods.
Dry riser installation to small blocks.
Building Management Control Systems (BMS).
Hydrant mains.
Brief
Tucker M&E have completed a contract to provide a full range of mechanical services to the student residences. The site comprises 526 bedrooms across six multi-storey blocks. In addition to the bedrooms there are a number of communal areas for study, laundry and meeting facilities.
Project Challenges
This project had a number of challenges that we had to overcome. Firstly, this was a tight site in a residential area so co-ordination of plant and locations was critical. In addition to this the building service spaces were restricted so co-ordination with other trades was essential.
Full pre-cast concrete construction meant that all services holes through the building had to be fully dimensioned on the drawing prior to any construction on site. To enable detailed
co-ordination 3D models were used. This helped avoid clashes and visualise specific areas prior to installation.
Finally, as combined heat and power units where installed, careful modelling for electrical and heat loads was done to enable the correct size engine to be installed maximising efficiency.
Results
This site is due to complete ahead of schedule, with very minimal snagging. We have had a good relationship with the main contractor and hope to do further work in this sector.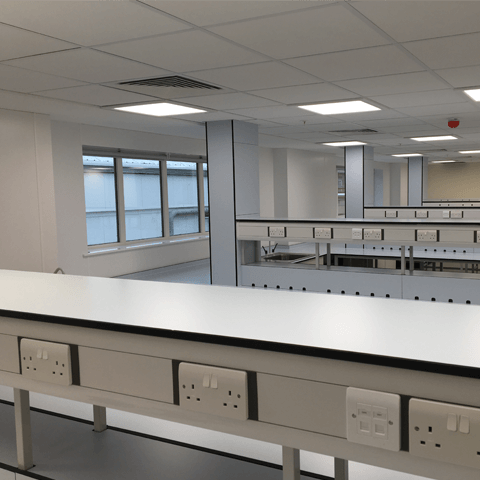 Kreate Hull KR North Stand
Project Value: £1.7 million
Contractor: Hobson & Porter
Client: Hull Kingston Rovers
Sector: Leisure
Duration: 28 weeks
Scope
VRF (variable refrigerant flow) heating and cooling to Office and Conference rooms.
Ventilation via heat recovery air handling units.
Kitchen catering facilities, ventilation, gas, hot and cold and electric extract hoods.
LTHW heating to door heaters, radiators, air handling units, hot water plant and underfloor heating.
Solar thermal domestic hot water.
HV/LV distribution.
Small power installations.
Lighting and emergency lighting.
Training facility flood lights.
Stadium pitch lighting.
Data cabling and containment.
Photovoltaic panels.
Fire alarms.
CCTV and match day surveillance systems.
Access control systems.
Smoke ventilation to stairs.
Brief
Tucker M&E provided a full design and build package at top rugby lead team Hull Kingston Rovers Light stream Stadium. The project included training facilities, a 2600 seat stand, corporate boxes, conference facilities and enterprise managed workspaces, with facilities for start-up business.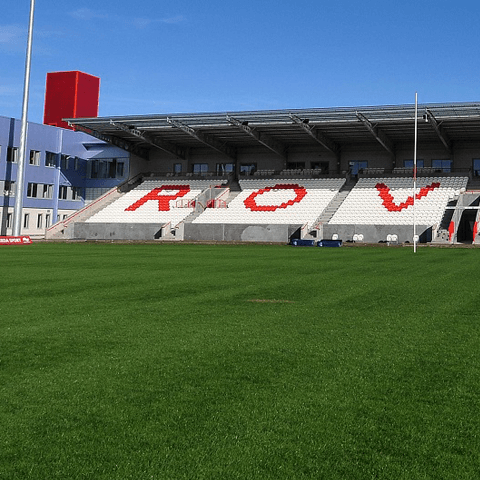 Chandos Tennis Club
Project Value: £538,000
Contractor: McLaughlin & Harvey
Client: Chandos Tennis Club
Sector: Leisure
Duration: 30 weeks
Scope
New LTHW gas fired boiler plant serving underfloor heating to all the club house.
New gas fired hot water plant with preheat via roof mounted solar thermal plant.
Hot and cold water distribution to showers and changing facilities.
IPS mounted rain water harvesting systems.
Gas and water infrastructure.
Sanitary-ware and above ground drainage.
LV distribution and small power.
Internal lighting and emergency lighting.
External court lighting.
Covered court lighting.
Fire alarms.
Data cabling and containment.
PV installations.
Brief
Tucker M&E undertook a design and build project for a new environmentally friendly tennis club. The facilities included outdoor courts, covered all weather courts with bespoke tent style canopy roof, lounge, café, gym, meeting room and changing facilities.
Project Challenges
There was a lot of effort put into making this facility environmentally friendly. PV's, solar thermal and rain water harvesting has all been installed into the bespoke building.
The covered court lights were tight to install to LTA requirements, while still maintaining good uniformity and the correct aesthetics for a building of this type.
Results
The client was happy with the facilities and we have had no problems. The project was completed on time within budget.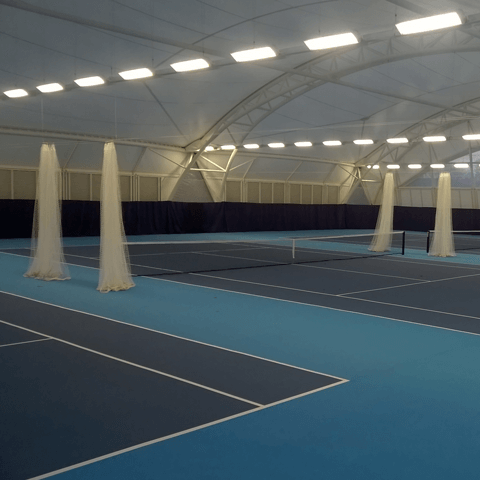 Get in touch with us today and lets chat.